The Lochside House Residence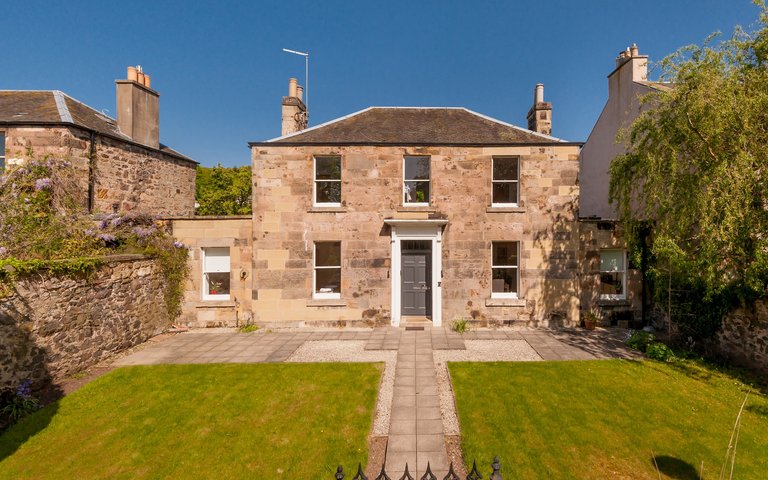 Lakeside House is a charming Georgian cottage that has been extensively refurbished and extended to create a great mix of character and modernity.

Simply furnished, this B listed house is situated in the most enviable position, a quiet "country like village" yet within the heart of Edinburgh with lovely views of Arthur seat. Set within its own grounds, the back garden is completely secluded and enclosed. The property has unrestricted on street parking.

The entrance hall leads to the dining room and from there you can access the modern lounge and kitchen. The lounge is a new addition to the property and boasts floor to ceiling glass covering most of 2 walls. The massive glass panels open to create a fantastic interaction between the house and the garden -bringing "the outside in". The kitchen is fully equipped with all modern appliances.

The other side of the entrance hall downstairs consists of 2 a-joining double bedrooms. The main downstairs bedroom has a patio door opening onto the back garden. There is a fantastic bathroom on the ground floor which has a great power shower and full size bath.

Upstairs there are 2 principle bedrooms both with en-suite shower rooms. Both these bedrooms have double beds. The third smaller upstairs bedroom has bunk beds.

Entry to the apartment is from 16:00 onwards; however, please note that arrivals after 19:00 may incur a late arrival fee of £30 for unsociable hours, arrivals after 10 pm will incur a fee of £50 and arrivals after midnight, a fee of £60. Earlier entry can perhaps be arranged but depends if there is a departure at your chosen apartment that day. This can be confirmed within 48 hours of arrival. If you are arriving earlier than 16:00 on your day of arrival, it is always worth contacting the property manager as they will always endeavour to give you access as soon as possible. You may be able to arrive early and leave luggage and come back however this is not guaranteed.

The latest departure time is 11:00, however, a guaranteed later departure (up to 20:00) can be arranged for a fee of 50% of the daily rate for that day but please note this is subject to no existing booking arriving that day already.

A £200 refundable damage/security deposit is due 7 days before arrival and refunded after departure.

All properties are strictly non-smoking and do not accept hen/stag/party groups. At least one guest must be over 25 years old.

Please arrange your arrival with the property manager at least 24 hours before arrival.
Exterior A charming, B listed Georgian cottage set within its own grounds with a secluded and enclosed back garden.
Location
Directions
Old Church Lane,

Getting there from the Waverley Railway Station
Exit station onto Princes Street, turn left along Princes Street and take the third right onto Hanover Street. Here you can take the number 42 bus directly to Duddingston. You must alight on Duddingston Road West once you enter the village of Duddingston. Old Church Lane is on the left hand side.

Getting there from the Airport
Take the Express Shuttle bus from Stand 19 just outside the UK arrivals hall into the city centre. Exit bus at Waverley Bridge, just off Princes Street. Follow instructions as above.

Getting there by car
If travelling from the North once you have crossed the Forth Road Bridge follow signs and join The City of Edinburgh Bypass /A720. Follow the Bypass to the end and at the Old Craighall junction roundabout turn left onto the A1. Follow this to the Milton Road Roundabout, turn left onto Milton Road /A1. Follow this road and look out for Duddingston Road West on your left hand side. Old Church Lane is the fifth road on your right hand side.

If you are travelling from the south on the A1, follow this to the Milton Road Roundabout, turn left onto Milton Road /A1. Follow this road and look out for Duddingston Road West on your left hand side. Old Church Lane is the fifth road on your right hand side.

Excellent road connections also provide rapid links to the city bypass and A1, which in turn give good links to the motorway network and Edinburgh Airport.

Additional Information
For those not familiar with Edinburgh, "Duddingston Village" is actually situated within the heart of Edinburgh, on the boundary of the Queen's Park which surrounds Holyrood Palace. It is best to access the village from the Queens Park – the house is directly opposite the Duddingston Kirk manse, halfway along Old Church Lane, and has a front garden with grass.

Parking Information
The apartment has ample unrestricted on-street parking.

For more information about parking in and around Edinburgh please visit http://www.edinburgh.gov.uk/a_to_z/service/940401/parking.

In addition there is a long stay car park at the Waverley Station in New Street.
There is an NCP long stay car park on Castle Terrace in the city centre.

Further information can be found at: http://www.networkrail.co.uk/aspx/9494.aspx

Taxi hire:
Should you wish to use a taxi during your stay in Edinburgh, we recommend City Cabs. Their contact telephone number is 0131 656 3670
Parking
The apartment has ample unrestricted on-street parking.
Limited Mobility Access
This property is on the ground floor. However three bedrooms are on first floor while two bedrooms are on ground floor.
Facilities and amenities
Property facilities
Dishwasher
Fridge
Oven
Microwave
Linen provided
Bath towels provided
Bedding provided
Cot/ Travel cot
Hair dryer
High chair
Iron / Ironing board
Washing machine
Tumble dryer

Smoke Detectors

DVD player
Radio
CD player
TV
Internet access
Wifi
Private garden
Central heating
Pets not allowed

Free parking (outdoor)
Nearby amenities and recreation
Horse riding [2 km]
Swimming (Indoor) [800m]

Skiing/Snowboarding

Cycle hire
Cycle paths
Boat mooring [4 km]
Boat launch
Golf [400m]
Gym [1000m]
Leisure centre [1000m]
Sports ground [2 km]
Shops [2 km]
Supermarket [2 km]
Express supermarket [1000m]
Bar / Pub [200m]
Restaurants [200m]
Café [200m]
Nightclub [2 km]
Galleries
Museum
Theatre [2 km]
Internet café [2 km]
Beach [2 km]
Reviews
Guestbook reviews
I would recommend this house to everyone. We stayed for a week, and it`s the perfect place to stay. Clean, Quiet, 5 bedrooms and 3 bathrooms and perfect place for self-catering. (although be sure to visit the lokal pub - said to be the oldest in Edinburgh, and you can also get very good food there). From the living room you have a wonderful view to Holyrood park, where you can almost spot Arthurs seat. We rented a car, but ended up walking to the city center - it`s a lovely walk through the park - about 35 minutes to the parliament ang Holyrood castle- the start of the Royal mile. There are also very nice golf courses nearby. Be sure to visit the Kirk - just one minute up the road. We were lucky enough to visit during easter, and although we are not all regular church goers - this church is a must. Lovely atmosphere, almost 900 years old. Taxi to the airport is about 25 pounds for a 6 seater and takes about half an hour. Just 5 minutes walk from the house is a tesco that will provide basic food ( we ended up driving to a larger store). The bus stop is one minute walk from the house and takes about half an hour to the city center (Princess street) All in all - the perfect place for our holiday.
- 30 Mar 2016
The Lochside House Residence
Anonymous guest
Excellent. Exactly met the needs of the three generations of our family.
Wonderfully well equipped with more towels than we could ever have used.
Lovely secure garden in a glorious setting. We know Duddingston well and really like the area and its accessibility to the Royal Park.
A near perfect place for us and we would definitely highly recommend this house.

The Monteaths, Surrey
- 02 Jul 2013
The Lochside House Residence
Anonymous guest
Very good value!
The house itself was set in a lovely location. Decor of the house was very modern. Spacious for 7-8 people to sleep comfortably. The kitchen had all the facilities you'd need and there were dishwasher tablets in order for us to use the dishwasher.
The bathroom was of an ample size.
The service from The Edinburgh Address was brilliant.
Deepa Mistry-Patel Southampton
- 29 Mar 2013
The Lochside House Residence
Anonymous guest
The accommodation represents very good value.
Spacious, flexible and comfortable, even on an extremely cold weekend. A great venue for a family get together
The service provided by The Edinburgh Address was all very efficient.
Michael Faye U.K
- 25 Mar 2013
The Lochside House Residence
Anonymous guest
Old Church lane was very good value and perfect in every way.
The property was excellent and the accommodation was well set out.
The service was excellent....prompt, helpful..will use again and will recommend. Erin was great.
- 22 Feb 2013
The Lochside House Residence
Anonymous guest
The property was in a good position within walking distancen to the City.
The house was very well equipped the bedrooms were lovely.
The pub down the road was lovely the staff very friendly and the food was fab.
I thought the service from the Edinburgh Address was excellent.
Anne Wooley
- 27 Nov 2012
The Lochside House Residence
Anonymous guest
Very good value
Lovely accommodation. We had everything we needed.
Wonderful place in a wonderful neighborhood.
Very roomy. Great kitchen for cooking. Great access to hiking. Good value to take taxis to town.
Catching the bus was easy for those with no mobility problems.

- Myra Wychoff Dallas Texas

- 12 Oct 2012
The Lochside House Residence
Anonymous guest
An extremely, clean, inviting and spacious house.

Lovely open plan style and the corner patio doors opening onto the garden give an enhanced feeling of space.

All our dealings with the office staff at The Edinburgh Address have been friendly and efficient. Erin has been particularly helpful - thank you.


- 08 Jun 2012
The Lochside House Residence
Anonymous guest
Very good value. A beautiful house which is extremely well- appointed. The conversion has been really well done without losing the character of the house. It was very comfortable, light and bright and was ideal for us as our daughter was getting married at the Kirk opposite. The service provided [from The Edinburgh Address] was excellent - friendly and helpful throughout. The first positive point was that you kept your promise to notify us when rental dates on the property we wanted were released, and every query we had was answered promptly.

- Linda, UK
- 20 Apr 2012
The Lochside House Residence
Anonymous guest
The house is beautiful with an amazing aspect of Arthur's Seat. Decor and attention to detail very impressive. Ideally situated for making the most of all Edinburgh has to offer. Cannot fault [the service from The Edinburgh Address], efficient and quick to respond to all enquiries.

- Susie, England
- 17 Apr 2012
The Lochside House Residence
Anonymous guest
The accommodation was perfect for our family, there were 9 adults and an 18 month old and we stayed for a week. We had more than enough room, with the bedrooms upstairs having en suites it didn't feel like everybody was on top of each other. The closed off garden is a perfect place for children to play and more than big enough for the family to have a very enjoyable BBQ. The house is in a beautiful area and provides a really enjoyable walk through Holyrood Park to the Royal Mile (approx 20mins). The pub around the corner from the property has a fabulous restaurant with a lovely bit of history attached to it (being the first ever public house opened in Scotland). We had a fantastic holiday and are already looking at booking again. The property is beautiful and in a fantastic location. Has everything you could think a real home from home. I have had a fantastic service from The Edinburgh Address from start to finish. A lot of it was done via email as the holiday was booked as a surprise but any questions were answered promptly and Erin was very helpful throughout. I did inquire if the property had a BBQ but I was told unfortunately not. However to my surprise on our arrival sure enough there was a little BBQ in the back garden, either way thank you. And thank you for a wonderful holiday.

-The Frain family, England
- 04 Apr 2012
The Lochside House Residence
Anonymous guest
Great first impression. It is well decorated and kitted out. Fantastic layout which is ideal for a group staying.

-S.Grandfield
- 11 Nov 2011
The Lochside House Residence
Anonymous guest
Lovely setting and well equipped property.

[The service from The Edinburgh Address was] excellent.

J. Paterson
- 26 Oct 2011
The Lochside House Residence
Anonymous guest
Accommodation was ideal for our purposes. We were attending a Christening at Duddingston Kirk. Lovely setting and well equipped property.

[The service from The Edinburgh Address was] excellent.

J. Paterson
- 26 Oct 2011
The Lochside House Residence
Anonymous guest
Just wanted to say a big thank you for providing such a beautiful house. We really did enjoy our weekend in Edinburgh and I will be recommending your company and that house to my friends. We will certainly be booking with you again.

Colin Stewart
- 15 Nov 2010
The Lochside House Residence
Anonymous guest
We had a wonderful time in Edinburgh, the house was amazing and lived up to every expectation. The house was exactly as described and offered all the facilities needed for a highly enjoyable weekend away.

Simon Justice
- 24 Oct 2010
The Lochside House Residence
Anonymous guest
Very good accommodation to stay. It's satisfactory to have a time with friends or family to relax. Surrounding landscape is also fantastic, good to walk, nice pop to go nearby, beautiful lake and garden to visit.

[Service was] Very impressive!. Staff and owner was very kind, and can give me immediate reply for any enquiry and demand.
Byung Sun Lee October 2010
- 05 Oct 2010
The Lochside House Residence
Anonymous guest
"Really enjoyed staying here. The property is easy to live in and is well-equipped. It has been renovated very well and is in a great position.
Everyone is very friendly and helpful. We would definately book with them again - and again."

S. Lacey, UK
- 30 Jul 2010
The Lochside House Residence
Anonymous guest
"The house is stunning. There were 8 of us in total as part of a wedding party and there was plenty of space for 4 adults and 4 children. The house is very well equipped, with sufficient crockery & cutlery etc for a large number of guests. The large dining area and equally large living room made it very relaxed. Property was clean, beds were comfy with plenty of linen and towels provided. Free unlimited on-street parking directly outside. Also, the use of free wi-fi was great as we had taken a laptop and could check the weather, things to do, plan routes etc. The house is in a great location and climbing Arthurs Seat proved a good way of allowing the children to let off steam. The house is a gentle 30-minute walk into Edinburgh. Would definitely stay here again if we were travelling in a large party - highly recommended for 2 families.
Nice easy access to the property by means of the keysafe - great idea when you're not sure what time you will arrive."

K. Hitchings, UK
- 20 Jul 2010
The Lochside House Residence
Anonymous guest
Superb...loved it great location and fantastic house
- 02 Mar 2010
The Lochside House Residence
Anonymous guest
"Accommodation was 1st class, would highly recommend the property to anyone planning a trip to Edinburgh.
1st class service from Edinburgh address, everything went very smoothly with no hiccups."

C. Millar, Northern Ireland
- 28 Nov 2009
The Lochside House Residence
Anonymous guest
"[...] accommodation was great for us, open plan was brilliant for our son and so was the garden.
Very good service leading up to our holiday in your property."

F. Braithwaite, UK
- 20 Oct 2009
The Lochside House Residence
Anonymous guest
"Spacious, clean and well located."

R. Bryant, UK
- 20 Oct 2009
The Lochside House Residence
Anonymous guest
"A lovely house."

R. Waters, Spain
- 08 Aug 2009
The Lochside House Residence
Anonymous guest
"Very good. High standard. Good facilities and location to centre of town."

C. Stewart, UK
- 30 Jul 2009
The Lochside House Residence
Anonymous guest
Nearby properties