The Georgian Suite Royal Terrace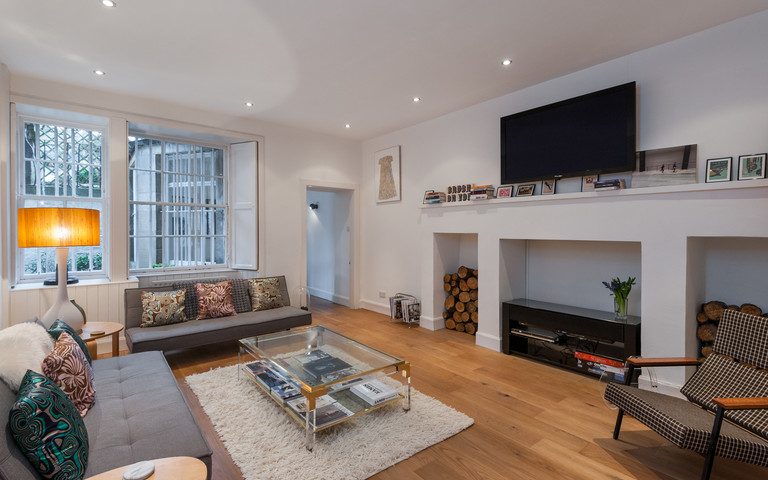 Proudly situated on the grand, sweeping Georgian elegance of Royal Terrace, our Georgian Suite showcases Georgian Architecture at its finest. This lovely apartment ticks The Edinburgh Address boxes: classical Edinburgh architecture, location and high spec interior.

Within a 5 minute walk of the Playhouse Theatre and less than 10 from the Omni centre with its shops and cinema and St James Centre with John Lewis. Princes Street is only a short walk too.


Interior layout The interior is fresh, bright and modern. The a spacious sitting room has a separate dining area to seat 4. The bespoke designer kitchen is off the sitting room and has all mod cons.

Both bedrooms are very spacious with plenty of storage and carpeted floors. There is a utility room off the main hallway. The Master has a period fireplace feature.

The bathroom is extremely luxurious with his and hers sinks and gorgeous limestone tiles. There is a shower over the bath.
Exterior Forming part of a beautiful Georgian townhouse, the apartment is on the lower ground floor, with its own private entrance and front garden.
Location
Parking
There is on street paid parking. This is free on a Saturday, Sunday and in the evenings.
There is a private garage that can be used at the rear of the apartment for a small fee of £13 per day.
Facilities and amenities
Property facilities
Dishwasher
Fridge
Oven
Microwave
Linen provided
Bath towels provided
Bedding provided
Cot/ Travel cot
Hair dryer
High chair
Iron / Ironing board
Washing machine
Tumble dryer
DVD player
Radio
TV
Internet access
Wifi
Private garden
Garden dining furniture
Personal meet & greet available
Pets not allowed
Nearby amenities and recreation
Swimming (Indoor)
Cycle paths
Gym
Leisure centre
Health spa
Shops
Express supermarket
Bar / Pub
Restaurants
Café
Nightclub
Galleries
Museum
Theatre
Internet café
Car hire
Reviews
Guestbook reviews
"After many trips staying in the Meadows area of Edinburgh, we decided
to take a chance North of Princes Street. Although more expensive than
our previous flats in Marchmont, Royal Terrace is inestimably better.
Both bedrooms are large with plenty of space even with king sized
beds. The owner, Xanthe, was very helpful in ensuring that bedding was
adjusted to our liking. All amenities were in clean working order.
There were tablets for the dishwasher and a welcome basket of bread
(real bread!) coffee, tea, milk jam and butter. There is a utility
room with washing machine and dryer and some very complex and
professional looking plumbing and electrics. The bathroom deserves
special mention. Of course it was clean but it was also big enough for
two (rather large) people to bumble about in it without banging into
each other. Very useful. The kitchen was well laid out with everything
in working order, and little notes for the hard of understanding
indicating how to use the under cupboard light. You would get there by
trial and error but the notes saved significant time. So did the
induction hob, which bought water to boiling point so quickly that I
had to recalculate egg boiling time. Rather than the usual
kitchen/diner set up of other flats, Royal Terrace has a separate
dining room, big enough to hold 6 people comfortably. Between kitchen
and dining room is a well appointed drawing room with a sofa that is
so big and comfortable I challenge you to sit on it for 15 minutes and
not fall asleep. OK so what were the negative features? Well very few
actually. The aforesaid sofa was too low for my knees but that's my
problem and there is a second sofa in one of the bedrooms which was
easier to get up from. We couldn't see any way to open windows, but
then we didn't try as the weather was inclement. It might be a problem
in Summer (when is that in Edinburgh?) The heating system worked very
well. Neither of us was ever cold in the flat. Um, that's it really.
An excellent place for a short or long stay. We'll be back I'm sure.
"
- 02 May 2016
The Georgian Suite Royal Terrace
Anonymous guest
Great apartment, really comfortable and everything we could need for a short stay.
- 04 Jan 2016
The Georgian Suite Royal Terrace
Anonymous guest
I would recommend to a friend or family member interested in staying at luxury accommodation in Edinburgh
- 17 Dec 2015
The Georgian Suite Royal Terrace
Anonymous guest
Nearby properties