Edinburgh Grandeur @ Stockbridge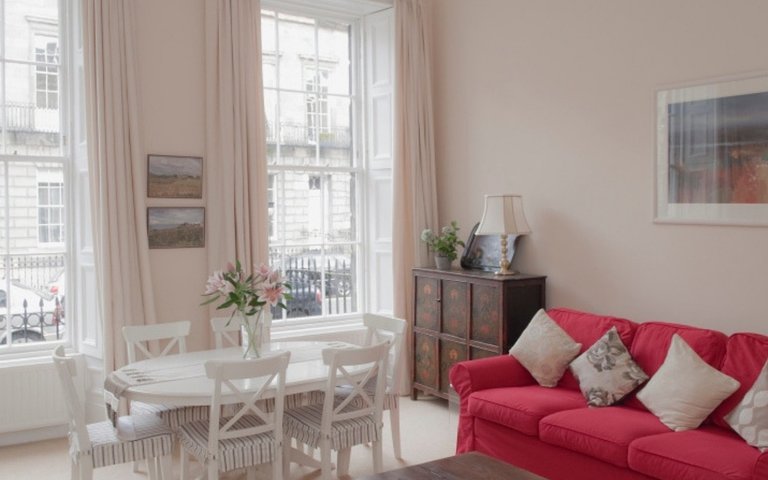 This apartment has the wow factor! Set on the northern edge of Edinburgh's New Town, it is grand in scale but simple. The perfect stay for a couple looking for a bit of luxury.

- Interior Layout -
The sitting room in this apartment is gorgeous, spacious and light with two huge windows looking out onto Carlton Street. It features seating and dining for 4 and is a room to spend time in! The relaxing colour theme, mix of antique and modern furniture works very well with glistening chandelier tops that sparkles with glamour.

- Exterior -
Georgian terraced property, in a superb location! Near the stunning Water of Leith, a leafy sanctuary for great walks. See the unique Saint Bernard's Well, visit the famous Dean Village or immerse yourself in the vibrant Stockbridge. Quirky cafes, beautiful local shops and great market.

-Booking Requirements-
One member of the booking party must be over 25 years. We require names and ages of all guests, as well as addresses and ID. We will require the lead guest to sign a copy of our terms and conditions. We reserve the right to vet any booking.

- Important -
This apartment is not suitable for stag parties, hen parties or young single sex groups or parties. A damage deposit of £250 is required one week before arrival and will be fully refunded pending no damages one week after your departure.

- Home Truths -
- Strict non-smoking policy
- Fireplace is decorative only

Location
Directions
City centre from the airport...

By Bus:
The Airlink 100 express and N22 night buses reach Waverley Bridge and the city centre from the West in about 25 minutes, depending on traffic. The Lothian Buses No 35 also runs into city centre but calls at local destinations en route, and continues to Leith.

By Car:
The airport is about eight miles (12km) west of the city centre and the journey (via the A8 Glasgow Road) takes about 25 minutes in light traffic.

By Tram:
Trams offer a frequent and reliable service linking the airport and the city centre. Interchange with rail services is available at Edinburgh Park and Haymarket stations. Other stops include Murrayfield Stadium and Princes Street.

Executive car transfer:
The Edinburgh Address can arrange an executive car pick up for you from the airport to your apartment - or other locations on request. We can also arrange day trips and private drivers. Please contact us on 0131 261 8646 and let us know you would like to arrange a car and to get a quote. Transfers are usually around £60 each journey. Please let us know as soon as possible so we have the best possible chance of booking the journey on your behalf, as cars aren't always available at last minute.
Parking
There is metered parking on nearby streets. Parking is free Monday to Saturday 6.30 pm till 8.30 am and all day on a Sunday.
Limited Mobility Access
This property is not suitable for wheel chairs or those with mobility difficulties
Facilities and amenities
Property facilities
Dishwasher
Fridge
Oven
Microwave
Linen provided
Bath towels provided
Bedding provided
Cot/ Travel cot
Hair dryer
Iron / Ironing board
Washing machine
Tumble dryer
DVD player
TV
Internet access
Wifi
Pets not allowed
Nearby amenities and recreation
Cycle paths
Shops
Express supermarket
Bar / Pub
Restaurants
Café
Nightclub
Galleries
Museum
Theatre
Internet café
Reviews
Guestbook reviews
Thank you all for a lovely stay . We have given you excellent reviews on Tripadvisor ( we are senior reviewers on that site )
- 27 May 2016
Edinburgh Grandeur @ Stockbridge
Anonymous guest
I'd just like to say a big thank you to all the team at The Edinburgh Address for all your friendly help and advice, whilst I've been here – and the icing on the cake was definitely having a pied-a-terre in Stockbridge! What a fab place – everything on your doorstep or a short stroll up the hill. I have to confess, I found the stroll down the hill, each evening after work, a little easier than the climb up – but that might have something to do with the trams stopping at Princes St / Hanover St and my popping into Brambles "on the way home" for a chat and a giggle, before running the gauntlet of fine restaurants between there and my front-door! Whilst I shall miss all of it, very much – I look forward to my waistline returning to something less expansive! When it comes to good food and wine (or cocktails!), I have no willpower – and I have found much good food, drink and friendly banter, here!

TF
- 10 Feb 2015
Edinburgh Grandeur @ Stockbridge
Anonymous guest
Excellent. The property was lovely, perfect for new year. We had a great time. Would definitely let people know about The Edinburgh Address. The service was excellent. Even found my teddy bear.

Janet K
- 22 Jul 2014
Edinburgh Grandeur @ Stockbridge
Anonymous guest
The accommodation was really perfect! It lacked nothing! The apartment was similar to the photographs, it was even better! Very bright, very clean, with all the utensils in the kitchen, new appliances, clean. The linen was spotless....
I congratulate the team that has always been attentive to my requests, answers to my questions were very clear and fast.

Claudia
- 23 Sep 2013
Edinburgh Grandeur @ Stockbridge
Anonymous guest
"It was perfect. Spacious, clean, restful, quiet, convenient for Stockbridge ameneties and for the centre of Edinburgh. Plenty of kitchen utensils, china, glass and crockery."

Susan, Aberdeen, Scotland
- 02 Sep 2013
Edinburgh Grandeur @ Stockbridge
Anonymous guest
"The apartment was so beautiful and comfortable.I have no words to express how lovely days we passed there."

Marta M, Spain
- 19 Aug 2013
Edinburgh Grandeur @ Stockbridge
Anonymous guest
Carlton Street Apartment was very good value.
It was great for a (short) stay. Just about everything was present.
The accommodation and service from The Edinburgh Address was excellent!
Wim Klooster Singapore
- 13 Jul 2013
Edinburgh Grandeur @ Stockbridge
Anonymous guest
The apartment was very good value.

We were blown away. It was beautifully furnished and had everything we needed. We felt very at home and absolutely loved our stay-we didn't want to go home!

Everyone was very helpful and friendly and the service was really excellent.

Kriss Payne, UK
- 02 Jan 2013
Edinburgh Grandeur @ Stockbridge
Anonymous guest
Very good value. The right quality, proportion and sense of space with ample amenities and just the right facilities. From the moment we entered it felt like a home, the Georgian architecture, street level location, plus being in the heart of Stockbridge made it such a memorable and unique experience for both of us.
[The Edinburgh Address gave] a most professional and prompt service which gave a huge amount of confidence and piece of mind throughout. We left with the aspiration to buy a property in Stockbridge and for The Edinburgh Address team to manage it for us.

-Andrew and Louise, Sri Lanka
- 09 Feb 2012
Edinburgh Grandeur @ Stockbridge
Anonymous guest
Nearby properties