Marchmont Main Door @ The Meadows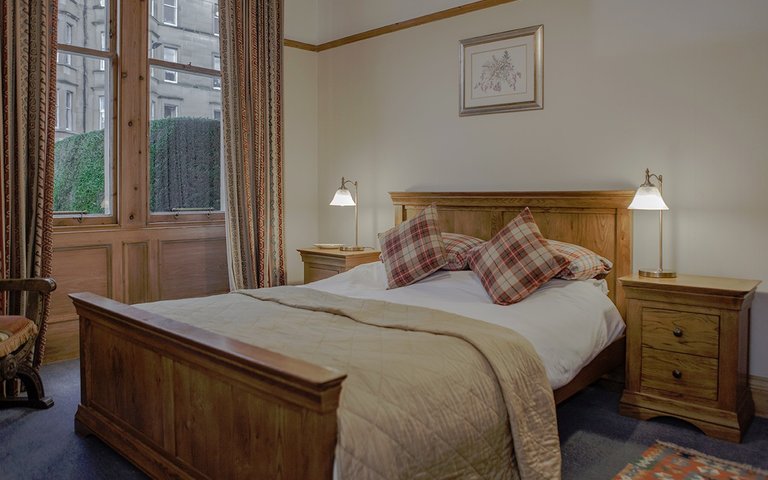 This spacious apartment has traditional features typical of it's Marchmont location. This is an ideal family and small group accommodation that will allow guests to experience the city whilst being based in a great Edinburgh neighbourhood.

- Interior Layout -
There is a large living room and lovely kitchen with dining area. The warm wood gives that cozy feeling you want after a day of sightseeing.

- Exterior -
Positioned close to The Meadows around a 20 minute walk to the Royal Mile it is in a super location from which to explore Edinburgh as it has excellent local amenities including cafes, bars, restaurants and deli's.

- Booking Requirements -
We require names and ages of all guests, as well as addresses and ID. We will require the lead guest to sign a copy of our terms and conditions. We reserve the right to vet any booking. One member of the booking party must be over 25 years.

- Important -
This apartment is not suitable for stag parties, hen parties or young single sex groups or parties. A damage deposit of £250 is required one week before arrival and will be fully refunded pending no damages one week after your departure.

- Home Truths -
- Strict non-smoking policy
- Fireplace is decorative only

Location
Directions
However you choose to arrive please do make sure that you have spoken to the 'property manager' to arrange a time to meet you at the property on arrival as there is no reception area or onsite staff to assist you if you arrive without notice.

- Executive Car transfer
Wanting to arrive in style and relax after your fight. The Edinburgh Address can organise a transfer in a luxury Mercedes for up to 8 guests for £57.00.

- Airport Black Taxi
This option is better if you are travelling in a small group as a taxi from the airport to the west end of Princes Street is about £18 to £20 dependant on the time of day and traffic. So its not much more just to get a taxi straight to the property.
Parking
During the weekend it is possible to park on the street outside the apartment for free. Spaces are generally available. During the week parking is metred 8.30 a.m till 5.30 p.m.
Limited Mobility Access
This property is not suitable for wheelchairs
Facilities and amenities
Property facilities
Fridge
Oven
Microwave
Linen provided
Bath towels provided
Bedding provided
Cot/ Travel cot
High chair
Iron / Ironing board
Washing machine
TV
Internet access
Telephone (incoming calls only)
Wifi
Private garden
Shared garden
Personal meet & greet available
Pets not allowed
Reviews
Guestbook reviews
The flat is lovely, comfy beds nice sitting room and well-appointed kitchen. The flat is central and suitable for visiting family.

We have stayed at the flat before and had a lovely time. Service (booking and telephone) is good and it is helpful to have easy parking in Edinburgh.

J Clark
- 11 Oct 2013
Marchmont Main Door @ The Meadows
Anonymous guest
Very pleasant flat. Lovely area.
The service from The Edinburgh Address was excellent.
K. Bowsher, UK
- 01 Jul 2013
Marchmont Main Door @ The Meadows
Anonymous guest
Very Good Value
It was lovely and welcoming. It was very clean and the decor was classic.
The service was great, friendly and helpful.

- Kim Clark
- 26 Jun 2012
Marchmont Main Door @ The Meadows
Anonymous guest
Lovely area and lovely accomodation! Suited our needs for the weekend as one of us was running the marathon.

- UK
- 04 Jun 2012
Marchmont Main Door @ The Meadows
Anonymous guest
Very good value. Excellent accommodation! Really peaceful area. Very well equipped and clean. Very comfy beds. Would stay again. Very happy with the service [from The Edinburgh Address]. Professional, friendly and efficient.

- W Currie, Orkney, Scotland
- 12 May 2012
Marchmont Main Door @ The Meadows
Anonymous guest
Very good value. The flat was spacious, warm, well equipped and in an excellent location for us. The beds were very comfortable and we felt at home almost instantly. It made an ideal base for all the things we wanted to do and we enjoyed coming "home" to this flat every day.

[The Edinburgh Address was] very efficient and helpful.

-J Campbell, Scotland
- 21 Feb 2012
Marchmont Main Door @ The Meadows
Anonymous guest
Comfortable, compact and convenient for two people wanting to be close to The
University and city centre.

[The service from The Edinburgh Address] was very efficient. You are now our first port of call when we visit.

-J. Killin (Repeat Guest)
- 12 Jan 2012
Marchmont Main Door @ The Meadows
Anonymous guest
Very good. Spacious accommodation and very well equipped kitchen. Good location and parking outside door.

-G. Howarth
- 10 Jan 2012
Marchmont Main Door @ The Meadows
Anonymous guest
Thank you for providing such an amazing flat for us last weekend in Edinburgh. It was spotless, warm and very welcoming...and we had a lovely time.

S. Tierney
- 15 Dec 2011
Marchmont Main Door @ The Meadows
Anonymous guest
My first impressions were really good. As a family of five, I want furniture which is practical and not easily marked so I am not worrying all holiday. Practical leather sofas, solid kitchen furniture and wooden floors all made this easier. It was spacious, high ceilings and surprisingly well sound proof (we were staying over Easter when the students were away but I imagine at other times there would be more noise late at night at the weekends). Everything was very clean and the tempur mattresses were amazingly comfortable. We loved the accommodation - it was spacious, clean, practical and comfortable.

It is the little touches that made the difference. We loved having complimentary luxury Scottish smellies to use on holiday - and the children bathed in bubbles whilst I had the time to moisturise long neglected skin. We also appreciated fresh filter coffee and Scottish biscuits on arrival - very welcome after a four hour journey in the heat. I think it is very important to have washing up liquid, toilet rolls and even a little washing powder in the accommodation and this was all provided - as were ample supply of fresh towels, clean linen and tea towels.

Good communication by your staff who answered all queries promptly. All in all, an excellent service. I would also like to say I love the fact you collect and respond to feedback.

Katy Walker
- 03 May 2011
Marchmont Main Door @ The Meadows
Anonymous guest
The atmosphere was fantastic. The location regarding the center was convenient. The big park was close as well as local food stores. The shops are open between 7AM to 11PM what was very convenient.

Everything went very smoothly.

Juri Lavrentjev
- 31 Mar 2011
Marchmont Main Door @ The Meadows
Anonymous guest
[The accommodation represents] very good value. Absolutely loved it. Very comfortable, very clean, in a fantastic location. Couldn't complain about this apartment at all. Very good service.

Thank you to everyone who is involved in it!

Eoin Collins
- 03 Mar 2011
Marchmont Main Door @ The Meadows
Anonymous guest
The apartment was beautifully furnished, clean and very spacious. We really appreciated the many towels and the tea & coffee basket, as well as the cosy fireplace. Nice neighbourhood within walking distance of the Old Town.

We were really happy about the service provided. From the time we made the booking to the day of arrival, we got rapid response to our e-mails. Upon arrival, Anne Marie arrived just as we did, and we got a tour of the flat. It was nice that she took time to tell us about both the apartment and the neighbourhood.

Tina Ryding
- 28 Oct 2010
Marchmont Main Door @ The Meadows
Anonymous guest
"Good, and self catered is something we would like to do again. Staff were easy to contact and friendly. Self catered apartment was clean when we arrived and easy to maintain."

T. Talavera, USA
- 05 Sep 2010
Marchmont Main Door @ The Meadows
Anonymous guest
"Lovely apartment, very nice area. Well decorated. I would repeat without doubts!"

C. Rodriguez, Spain
- 01 Sep 2010
Marchmont Main Door @ The Meadows
Anonymous guest
"Clean, well presented accommodation. Features as to be expected in a serviced apartment.
E-mails were replied to without delays and phone conversations were polite yet suitably informal. Good work."

C. Hill, UK
- 02 Jun 2010
Marchmont Main Door @ The Meadows
Anonymous guest
"The apartment was ideal for our needs. It was large enough to have friends for lunch and felt quite spacious. It is situated in a pleasant part of Edinburgh and it was easy to park.
We had a very warm welcome and the tea, coffee and milk provided were very welcome (especially the filter coffee)."

S. Lacey, UK
- 07 May 2010
Marchmont Main Door @ The Meadows
Anonymous guest
"The stay in Marchmount was perfect in so many ways. I used to live at number 26 during my final year at University so it was a week of reminiscing for me and reminder that Edinburgh is such a fantastic place."

A. Baird, stayed at the Period Meadows Apartment (Marchmont Main Door Apartment) in April 2010
- 16 Apr 2010
Marchmont Main Door @ The Meadows
Anonymous guest
"[Service was] Excellent. No problems and no complaints. Long distance service via the internet worked smoothly."

J. Strickler, US
- 09 Jan 2010
Marchmont Main Door @ The Meadows
Anonymous guest
"It was lovely.
The service was good, e-mails were answered promptly and apartment was in good order."

P. Pruulmann-Vengerfeldt, stayed at the Period Meadows Apartment (Marchmont Main Door Apartment) in December 2009
- 09 Dec 2009
Marchmont Main Door @ The Meadows
Anonymous guest
"Good standard of service, respectful and helpful."

S. Evans, UK
- 25 Nov 2009
Marchmont Main Door @ The Meadows
Anonymous guest
"A very nice flat indeed; traditional and comfortable, and no shared stair that can at times be dark and dingy."

T. Qurashi, stayed at the Period Meadows Apartment (Marchmont Main Door Apartment) in November 2009

- 23 Nov 2009
Marchmont Main Door @ The Meadows
Anonymous guest
"Nice apartment, clean and fully furnished."

A. Miniello, stayed at the Period Meadows Apartment (Marchmont Main Door Apartment) in September 2009
- 15 Sep 2009
Marchmont Main Door @ The Meadows
Anonymous guest
"Very pleased with this accommodation - it is of good quality and pleasantly situated with a fairly frequent bus service nearby to the centre of town. We particularly felt it was well supplied with kitchen equipment and utensils, also plenty of towels. Would definitely consider booking this place again.
This is the first time we have used The Edinburgh Address and we are very pleased overall regarding the service provided."

P. Breckon, UK
- 14 Sep 2009
Marchmont Main Door @ The Meadows
Anonymous guest
"[Apartment was] clean, tidy well laid out and everything you needed was catered for."

D. Thompson, UK


- 06 Jul 2009
Marchmont Main Door @ The Meadows
Anonymous guest
"The accommodation was ideally placed, very clean and had everything that was required...
The service was excellent, all aspects of booking arrival and departure being painless."

J. Killin, UK
- 28 Jun 2009
Marchmont Main Door @ The Meadows
Anonymous guest
"Excellent and well located."

G. Kotschy, stayed at the Period Meadows Apartment (Marchmont Main Door Apartment) in February 2009
- 18 Feb 2009
Marchmont Main Door @ The Meadows
Anonymous guest
Media reviews
Ideal location. Very comfortable with good beds. Well furnished but uncluttered

Tod Merson
- 22 Nov 2010
Marchmont Main Door @ The Meadows
Anonymous guest
The apartment was very spacious for our family and everything was in good working order. The kitchen was very nice. We made supper there several nights. the living room was comfortable for family and we enjoyed it's character. It was great to have internet access and lovely extra's such as games, books,shampoo and bath gel. I am sure we will try and rent this apartment again when we come to Scotland.

Contacts by phone and e-mail were responded to very quickly and Anne Marie was very nice and explained everything thoroughly when we checked in. No surprises and expectations were surpassed. Sue Muenchow September 2010
- 20 Sep 2010
Marchmont Main Door @ The Meadows
Anonymous guest
Nearby properties