Advocate Suite, Royal Mile, 350 metres from Edinburgh Castle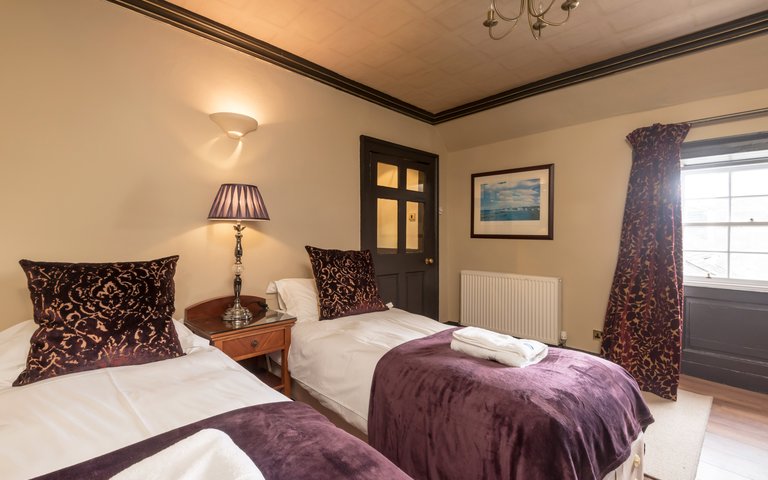 ****This property was refreshed in March 2019. This gorgeous 4th floor (NO LIFT) apartment is situated in the heart of Edinburgh on the Royal Mile , approximately 5 minutes to Princes Street, Castle and Holyrood Palace. With views of Arthurs Seat and the High Street from the apartment. Climb the winding staircase to this beautiful apartment located in the middle of city centre Edinburgh. Being located on the 4th Floor, it is a perfect place for peace away from the bustle of the street below where a plethora of Edinburgh attractions, restaurants and bars are on your doorstep. Please note that this apartment does not have a formal lounge as it has been setup as an additional bedroom to provide economical value This has therefore been reflected in the rates payable.

Accommodation
On entering the flat linger a while to look at the pictures of Edinburgh past in the wood panelled hallway.

Bedroom 1

This is at the back of the apartment and offers views of Arthur Seat and the buildings of old Edinburgh. This has twin beds offers a great place to relax and unwind. There is a TV, Mirrored wardrobes and other small items of furniture will ensure your accommodation is comfortable.

Dining Area/Kitchen

This room features a large kitchen with a dining table. The kitchen is fully fitted and equipped with a fridge/ freezer, washer/dryer, gas hob and electric oven, microwave oven, cutlery and crockery.

Bedroom 2

Located at the front of the building this carpeted room with a double bed and lovely views of the Royal Mile below.

Shower room

This shower room is a great place to relax after a busy day touring the sights. Fitted with large shower, sink and WC.


Additional information

Ironing facilities and a hair dryer are provided.
The airport drop off point and main railway (Waverley station) are 5 minutes walk.

* All gas & electricity costs are included in the rental.
* Linen and towels are provided, For bookings 10+ nights the change of these are included in a free service of the property, for more frequent servicing please contact guestrelations@edinburgh-selfcatering.co.uk for a quote after booking.
* Complimentary tea, coffee and milk are provided for your arrival.
* Ironing facilities and a hair dryer are provided.
* Daytime street parking is available but is expensive, various longer term parking solutions can be suggested. (However, overnight parking is free from 6.30p.m. to 8.00 a.m. Mon-Sat, and free parking is available all day Sunday).
* The airport bus drop off point and Edinburgh's main railway station (Waverley) are approximately 250 metres away.

Restrictions

* No smoking is allowed within the apartment.
* pets not allowed.
* We regret that this FOURTH floor flat will be unsuitable for some people with disabilities as there are only stairs.
* NO LIFT is available.

Access Arrangements

A "meet and greet" service is operated , whereby you will be met at a property at a pre-arranged time to give access. Full instructions of this procedure can be found in the secure guest area after a booking has been completed. It is very important that an approximate arrival time is provided before arrival for this process. Entry is from 14:00 onwards but if nobody has booked to depart on your day of arrival it will probably be very suitable for us to give you entry as early as possible. Departure is by 10am (a guaranteed late departure up to 20:00 can be obtained for 50% of that daily rate. Please contact us if you want to utilise this facility and a price will be calculated).

Please note that arrivals after 19:00 will incur a range of late arrival fee.

**LATE ARRIVAL: fees, 19:00 - 22:30 - 15 pounds, 22:31 - 00:00 - 30 pounds and 00:01 - 02:00 - 50 pounds. The latest access can be given is 02:00, otherwise it is given at 08:00 the next day. ESC accept no liability for any costs involved in alternative accommodation for this 6 hour period.


A deposit of 25% is payable on booking and the outstanding balance of the rental price must be received 2 months prior to your arrival date. For bookings made less than eight weeks before your arrival date the whole rental price falls payable at the time of booking. Please note that a separate 200 pounds refundable key/security deposit must be provided prior to arrival. This is rescinded 2 days after departure.
Location
Directions
There are three options to get from Edinburgh airport to the city centre, all take approx 30-35 minutes. The main rail station Waverley is approx 250 metres from the apt.

1. Edinburgh trams, approx every 8-10 mins (Sunday 12-15 mins), right outside terminal, the nearest drop off point for the apt is the Princes St stop or St Andrew Square which are approx 600 metres away. Cost 8.50 pounds for adults and 4.50 pounds for children for a RETURN journey.

2. Airport express bus, every 15 minutes right outside terminal building, drop off point on Waverley Bridge approx 250 metres from apt. Costs 7.50 pounds per person for a RETURN journey.

3. Taxi, many can be found right outside the terminal building and will cost 15 - 20 pounds for a one way journey. However a taxi will drop you off right outside the property you have booked.
Parking
Street parking is enforced Mon Sat 08:00 - 18:30, it is expensive and inflexible as you can only stay in one spot for a few hours.

There are many city centre car parks to choose from, you can use these for a short time or full days which cost approx 16 pounds or more or enter the postcode of the property you have booked into this website http://www.parkopedia.co.uk/

Alternatively if you do not plan your use your car much, (Edinburgh is a relatively small city centre and is much better explored on foot), leave your car in a well lit residential street outside the restricted city centre, the whole operation should take approx 30 minutes. Alternatively, the return journey in a taxi from an unrestricted area (approx 2.5 km) would be less than one days parking charges. Information on the best areas for this can be provided.
Facilities and amenities
Property facilities
Fridge
Oven
Microwave
Linen provided
Bath towels provided
Bedding provided
Cot/ Travel cot
Hair dryer
High chair
Iron / Ironing board
Washing machine
TV
Satellite TV
Freeview / Freesat TV
Internet access
Wifi
Personal meet & greet available
Pets not allowed
Nearby amenities and recreation
Gym
Supermarket
Express supermarket
Bar / Pub
Restaurants
Nightclub
Museum
Reviews
Overall rating
Based on 2 review(s)
Location

Cleanliness

Price/Value
The climb up the narrow, winding stairs was daunting, (and not for the faint of heart) but the apartment was very clean, comfortable, and beautifully situated in the center of all the attractions you hope to see when coming to Edinburgh. It was great to have such a nice kitchen to come home to when we didn't want to eat out.

My one suggestion for the management: for your visitors from the US, please add a page in your book about what the symbols on the washer/dryer mean! I never did figure out how to get clothes dry as well as clean.

Otherwise--it was fantastic!
Location

Cleanliness

Price/Value
Advocates Suite is perfectly located at the Centre of the Royal Mile with the Castle a only short walk away. It is surrounded by cafe's and bars and even has a Starbucks at the bottom of the Stair.
Once you have survived the four flights of stairs, the apartment is clean and cosy and has amazing decoration.
We found it and ideal comforting and relaxing base to explore Edinburgh and would not hesitate in recommending it,.
Nearby properties